APSRTC Student Bus Pass Online Application upto SSC and Above SSC Students can apply online at www.apsrtcpass.in website….
After the separation of our Andhra Pradesh State Government launched a new web portal on Andhra Pradesh and the state road transport corporation Student Bus Pass. The official website name is apsrtcpass.in. It can be begun recently. Few years before APSRTC is the one of the biggest State Road Transport Department in India because after the separation of two state RTC will be divided. The APSRTC officials are giving the opportunity for who are studying SSC / above SSC those buddies now can apply the student bus pass online.
In the latest "APSRTC PASS" website given the service to issue the student bus pass through via without any paper. Actually it is very easy process for applying APSRTC Student Pass.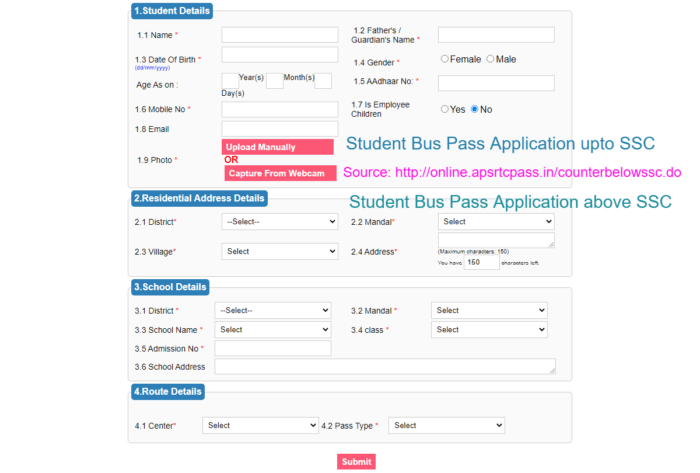 How to Apply for APSRTC Bus Pass Online Application for Student Bus Pass Application upto SSC or Above SSC at apsrtcpass.in
Now coming to the point we can provide the brief instructions on how to apply RTC Student bus Pass online. Just follow the below guidelines…
First of all please visit the URL: https://apsrtcpass.in/
After logon into the web page you can see 2 tabs like Student Bus Pass upto SSC and Student Bus Pass above SSC.
You can Click on anyone of the tab. It can be redirected to https://online.apsrtcpass.in/
In that page again you can click on "Click Here for Fresh Registration"
Another drop down menu will be showing i.e Student Pass Above SSC and Student Pass below SSC. Select anyone option
After you must Enter the Student Details, Education Details, Institute / School Details, Residential Address and Router Details.
After entering the all information you can click on Submit button.
In the Final Step you must upload your Passport Size Photograph. Click on Submit Button.
Any Doubts on this APSRTC Student Bus Pass Online Application for upto SSC, Above SSC article leave a message below.
Direct Gateway to go for APSRTC Bus Pass Application https://apsrtcpass.in/