Linking Process for How to Link Aadhaar Number to PAN Number by with or without login https://www.incometaxindiaefiling.gov.in/home website….
Every government needs a well laid out plan of monitoring the flow of taxes from the taxpayers to the tax department in order to get maximum collection. For the government of India, monitoring how each citizen pays their tax is made possible by using the Pan Card.
Permanent Account Number, commonly referred to as PAN is a method of identifying taxpayers in India. The PAN Card contains ten-digit alphanumeric numbers stored in a card that is laminated to prevent any destruction or tamper by an individual. The income tax department of India under the control of the Indian Government is mandated with the responsibility of giving PAN Cards to every taxpayer in India.
A PAN Card is issued to a resident, non-resident Indian, company or any other person who pays taxes in India. There are seven types of PAN Cards in India as listed below:
Individual PAN Card
Company PAN Card
Firm PAN Card
Society PAN Card
Trusts PAN Card
Foreigners PAN Card
HUF-Hindu undivided family PAN Card
By using the PAN Card system of identification, every tax information of a person is stored against a single PAN number, which is the main tool of storing details. The information is spread across the country meaning that at no single time will two people have the same PAN number.
Once a person has been assigned the Permanent Account Number, no alteration in the personal details will change it. The alteration in personal details may include a change of name or even change of address across or within the States.
Aadhaar Card: Being in possession of an Aadhaar card is very beneficial as it brings many pros to the person holding it. This is mostly the case when a person has linked it with other cards such as the PAN Card. Ever since the Aadhaar card was introduced, citizens of India can now be easily identified based on their Aadhaar number that contains all demographic and bio-metric information.
Using an Aadhaar Card can be very easy especially if you have registered your personal mobile phone number with the Unique Identification Authority of India (UIDAI). Although it is not necessary, Linking your Aadhaar card will guarantee you free access to all online services that are offered by UIDAI. These services may include downloading E-Aadhaar, updating your Aadhaar details and coming up with a Virtual Aadhaar ID. All these services are secured by using a One Time Password (OTP) that is issued once you register with UIDAI.
How to Link Aadhaar Number to PAN Number in www.incometaxindiaefiling.gov.in
Linking Aadhar Number to PAN card on the income tax e-filing portal can be done using two methods i.e.
By logging into the income tax e-filing portal
Without logging into your income tax e-filing portal
1. By logging into the income tax e-filing portal
You can easily link Aadhar Number to PAN by following the simple steps given in this guideline.
Register with the income tax e-filing portal if you do not have a registered account.
Once you have registered, login into the portal by keying in the password, login ID and the date of birth.
After successfully logging into the portal, you will see a pop-up window that will request you to link your PAN Card with the Aadhar card. If by any chance you do not see this pop-up window, place your cursor on the 'profile settings' and click on 'Link Aadhar'
Verify your personal details such as date of birth, gender and name that you had previously submitted while registering on the e-filing portal.
After verifying the details, enter the Aadhar card number together with the captcha code displayed on the screen.
Click on the 'Link now' button.
You will then receive a pop-up message notifying you of the successful linkage between your PAN Card and Aadhar Number.
2. Without logging into your income tax e-filing portal account
You can also Link Aadhaar Number to PAN without necessarily having to login into the e-filing portal. This can be done by:
Accessing the e-filing income portal using https://www.incometaxindiaefiling.gov.in/home as the link
On the homepage, click on 'Link Aadhaar' located on the left pane.
Enter your PAN number, Aadhaar number and name.
Once you have entered the details, click on 'submit' to finalize the process. You will then have successfully linked the Aadhaar Number with your PAN card.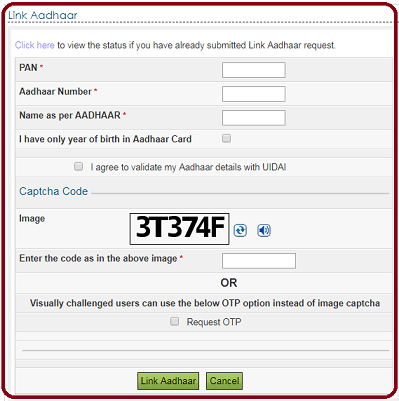 Benefits of Linking Aadhaar Number to PAN Card
Linking your PAN card with the Aadhar Number is important as it has many benefits to the owner of these cards. The following are some of the benefits that a user will get after linking Aadhar card with PAN card:
Linking Aadhaar Card with PAN card is beneficial as it helps to get rid of multiple PAN Card holding by a single person.
A user is also able to establish the uniqueness of their PAN card by linking it with the Aadhaar card. This makes it possible for you to get a unique PAN card while at the same time giving the government a de-duplicated PAN card database.
A user who has linked their PAN card with the Aadhaar Number will be able to have a summarized detail of taxes attached to the unique identification number. This makes it easy for a person to look at in the future whenever they have any issue.
If anyone wants to receive LPG subsidy in his or her bank account, then linking Aadhaar number and PAN card is highly recommended.