Myaadhaar.uidai.gov.in Get Aadhaar Card Soft Copy Download and Track the eAadhaar Card Status at resident.uidai.gov.in….
Aadhaar card is a 12-digit identification number that is issued to Indian citizens by the Unique Identification Authority of India (UIDAI). UIDAI operates under the planning commission of India and makes it possible for the government of India to have a common identification of all the citizens. This is the Aadhaar Card available website myaadhaar.uidai.gov.in.
This is made possible through the collection and storage of bio-metric information and details of citizens in a unique identification number database. Banks, financial institutions and telecom companies can also use Aadhaar card as a Know Your Customer (KYC) verification mode that maintains the profiles of all customers.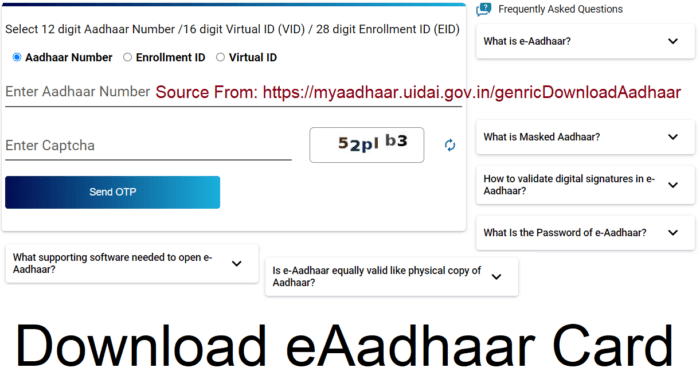 How to check Aadhaar Card Status or eAadhaar Application Status in resident.uidai.gov.in
Any person who has the Aadhaar Acknowledgement Slip can easily check their Aadhaar Card Status online. All one has to do is give the enrollment number so that it becomes easy to track the UIDAI eAadhaar Card status. There is no fee charged when checking for your Aadhaar Card status track either myaadhaar.uidai.gov.in or resident.uidai.gov.in website. All one needs to have is an internet connection and a device that can access the internet. The following steps will help you check the application status of your Aadhaar card.
On your browser type https://myaadhaar.uidai.gov.in which is the link to Aadhaar card official website.
Place your mouse cursor on Aadhaar online services and select Aadhaar Enrollment section. Click on 'Check Aadhaar status' option that is displayed in this section.
Correctly enter your enrollment ID, time and date of enrollment, security code and then click on 'check status' button.
If your Aadhaar card has been generated, a message will be displayed in the website. You can then decide to get it from your registered mobile number or download it from the Aadhaar website.
For a person who wishes to download E-aadhaar, it can be easily done by clicking on 'Download Aadhaar' option.
In the case that you want to get it through your mobile phone, you can do it by selecting 'Get Aadhaar on mobile' option.
How to Get or Download eAadhaar Card Soft Copy in myaadhaar.uidai.gov.in
Downloading Aadhaar card using Aadhaar number can be easily done so long as an individual has access to an Internet connection and an internet-accessing device. Once all these are in place, the Aadhaar card can be downloaded using these simple steps below:
On your browser search for the UIDAI website using https://uidai.gov.in as the link. From the homepage of UIDAI website, locate Aadhaar online sources and place the mouse cursor on this option to select Aadhaar Enrollment.
In the page that pops-up, select 'Download eAadhaar' from the options given.
You will automatically be redirected to a different page URL https://myaadhaar.uidai.gov.in/ known as 'Download E-Aadhaar by using your Aadhaar, VID or EID.
Click on 'Aadhaar' and correctly key in your personal details including your full name, security code, pin code and Aadhaar number.
After getting the OTP that is sent to the registered number, enter it on the OTP option.
Finally, click on 'Download Aadhaar' to complete the process.
After getting the eAadhaar Letter Card you will compulsory take a print out with Aadhaar Digital Signature Validation.
After successfully downloading the Aadhaar card from the UIDAI website, you can print it for further use by following the steps given below:
Access the Aadhaar official website on your browser using https://uidai.gov.in or https://myaadhaar.uidai.gov.in/ website.
Once in the website, click on 'Aadhaar card Status'
Fill all the information requested on the page and you will then get a PDF of your Aadhaar displayed on the screen.
Finally download and print the PDF in hard copy for future use.