Eaadhaar.uidai.gov.in Get Aadhaar Card Soft Copy Download and Track the eAadhaar Card Status at resident.uidai.gov.in….
Aadhaar card is a 12-digit identification number that is issued to Indian citizens by the Unique Identification Authority of India (UIDAI). UIDAI operates under the planning commission of India and makes it possible for the government of India to have a common identification of all the citizens. This is the Aadhaar Card available website eaadhaar.uidai.gov.in. This is made possible through the collection and storage of bio-metric information and details of citizens in a unique identification number database. Banks, financial institutions and telecom companies can also use Aadhaar card as a Know Your Customer (KYC) verification mode that maintains the profiles of all customers.
The government of India introduced the Aadhar Card to have a single and unique identification number or document that will store all details including bio-metric and demographic information. This card is not meant to replace other identity documents like permanent Account Number (PANs), ration cards and driving licenses but can act as proof whenever a person is applying for other things.
Any disadvantaged resident of India can use the Aadhaar card to get hold of services that were initially denied due to lack of identification documents. Any Indian resident can get an Aadhaar card since it is easily downloaded from the UIDAI website that is operational 24 hours a day. Downloading the card is only possible if one has downloaded the Aadhaar card enrollment form from the UIDAI website or any bank, post office or Aadhaar Enrollment Center.
An Indian resident can apply for the Aadhaar card by producing their passport, driving license and PAN Card. Other details required include the proof of address (bank statement, power bill) before one can finally submit the fingerprints and iris scan.
Purpose of Aadhar Card in India
An Aadhar card is one of the most important documents that an Indian citizen should have when it comes to verification, identification and KYC purposes. Given below are the purposes served by Aadhar card in speeding up bureaucratic and government processes.
Opening Bank Account
When opening a bank account, the Aadhar card can be one of the important documents needed. Banks and financial institutions consider Aadhar cards as photo ID proofs and valid address when a person is opening a new bank account.
Acquisition of Passports
Obtaining a passport can be very time consuming and tiresome since one has to follow a long procedure. With the introduction of Aadhar cards it is now easier for an Indian resident to acquire a passport since it reduces the processes involved. A person who wishes to apply for a passport can do so by attaching their Aadhar card as a proof of ID and residence.
Digital Life Certificate
The digital life certificate also known as 'Jeevan Pramaan for Pensioners' was introduced by Narendra Modi, the prime minister of India. This certificate is mainly used to get rid of the need for pensioners to be present at any particular time in order to get a pension.
Disbursing Provident Fund
Through the introduction of Aadhar card, it is now possible to have the provident fund disbursed into ones account. This is made possible by linking the Aadhar card to your pension card.
How to check Aadhaar Card Status or eAadhaar Application Status in resident.uidai.gov.in
Any person who has the Aadhaar Acknowledgement Slip can easily check their Aadhar Card Status online. All one has to do is give the enrollment number so that it becomes easy to track the UIDAI eAadhaar Card status. There is no fee charged when checking for your Aadhaar Card status track either eaadhaar.uidai.gov.in or resident.uidai.gov.in website. All one needs to have is an internet connection and a device that can access the internet. The following steps will help you check the application status of your Aadhar card.
On your browser type https://eeadhar.uidai.gov.in which is the link to Aadhar card official website.
Place your mouse cursor on Aadhar online services and select Aadhar Enrollment section. Click on 'Check Aadhar status' option that is displayed in this section.
Correctly enter your enrollment ID, time and date of enrollment, security code and then click on 'check status' button.
If your Aadhaar card has been generated, a message will be displayed in the website. You can then decide to get it from your registered mobile number or download it from the Aadhar website.
For a person who wishes to download E-aadhar, it can be easily done by clicking on 'Download Aadhar' option.
In the case that you want to get it through your mobile phone, you can do it by selecting 'Get Aadhar on mobile' option.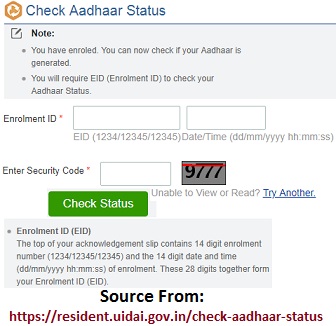 How to Get or Download eAadhaar Card Soft Copy in eaadhaar.uidai.gov.in
Downloading Aadhar card using Aadhaar number can be easily done so long as an individual has access to an Internet connection and an internet-accessing device. Once all these are in place, the Aadhar card can be downloaded using these simple steps below:
On your browser search for the UIDAI website using https://uidai.gov.in as the link. From the homepage of UIDAI website, locate Aadhar online sources and place the mouse cursor on this option to select Aadhar Enrollment.
In the page that pops-up, select 'Download eAadhaar' from the options given.
You will automatically be redirected to a different page URL https://eaadhaar.uidai.gov.in/ known as 'Download E-Aadhar by using your Aadhar, VID or EID.
Click on 'Aadhaar' and correctly key in your personal details including your full name, security code, pin code and Aadhar number.
After getting the OTP that is sent to the registered number, enter it on the OTP option.
Finally, click on 'Download Aadhaar' to complete the process.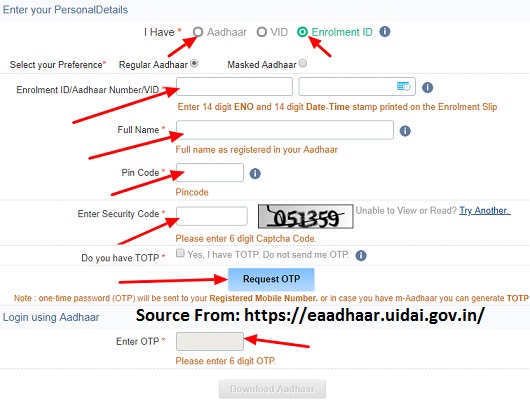 After getting the eAadhaar Letter Card you will compulsory take a print out with Aadhaar Digital Signature Validation.
After successfully downloading the Aadhaar card from the UIDAI website, you can print it for further use by following the steps given below:
Access the Aadhar official website on your browser using https://uidai.gov.in or eaadhaar.uidai.gov.in website.
Once in the website, click on 'Aadhar card Status'
Fill all the information requested on the page and you will then get a PDF of your Aadhaar displayed on the screen.
Finally download and print the PDF in hard copy for future use.