Goa DSLR Land Records Online Download ROR Form I XIV Form D Land Mutation application….
The Goa state government has now made all the land records available online for its citizens. The people can easily go to the official website and just get the details like DSLR, ROR, Form 1, Form 14 and Form D. They can also get the land mutation applications.The new web portal is available for Goa Land Records at www.egov.goa.nic.in/dslr and allows the people to search their land records and other land details.
Goa's Directorate of Settlement & Land Records has running and maintaining this portal without any discrepancies. The land records can be searched for both Rural and Urban areas and you can also apply online for land mutation. You can also download different documents and forms for issue of certified copies, Property Encumbrance certificate, land conversion through Mutation.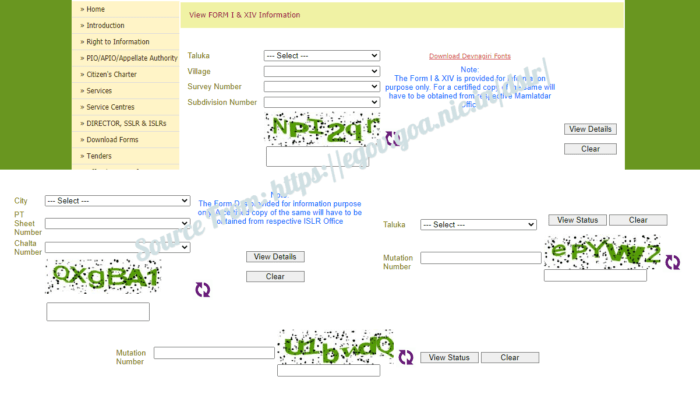 Services that are available in the Goa Land Records Website:
We can Inspect all the properties Plans or Records.
Pre-liberation Land records or Communidade Plans inspection application.
Village maps Computerised certified copies
Certified copy of Alvara Title Old cadastral plans Communidade Plan.
Land mutations in the city survey.
Confirmation of possession of property in city survey.
Partition and resurvey through the DSLR website.
Demarcation and Refixation of Boundaries, Land Conversion.
How to search Goa Land Records for Form I XIV, Form D and ROR records
First visit https://egov.goa.nic.in/dslr/f114new.aspx select FORM I XIV link in the menu
Select your taluk as the Land records, forms etc are searched by Taluk wise.
Select Village name now and choose survey number, sub division number
Now Enter verification code given there
Now click on the View Details button to find your property or land FORM I FORM XIV of lands displayed
Find the Mutation status of Rural and Urban areas?
First select either Urban or Rural Mutation link in the menu.
Select Taluka from the list given in the form
Next enter your land mutation application number
Enter the captcha verification code and then select View details button
This will show your present conversion status on the screen.
Procedure to pay Land Mutation application fees online?
Find the Pay Mutation Fees link in menu and click on it
Here you can either pay for Form I Form XIV or FORM D
Select an option and fill details of city, Sub city if applicable, PT sheet number, Chalata number, Application registration number.
Then fill Transacted dimensions of area in square meter
Enter applicant mobile number, email and pin code for verification and click confirm button
Now click proceed to pay button and pay through internet banking or debit cards
Any Queries please feel free to share your doubt in the below comment form.