Now Know the Jammu and Kashmir Ration Card Details and Jammu Kashmir Ration Card Status at jkfcsca.gov.in or jk.epds.nic.in….
A ration card is an important document for Indian citizens for various purposes. It is generally used as an identification and residence proof and to obtain food and other rationed items from ration shops. The ration shop provides ration such as rice, sugar, wheat etc at lower prices. Ration card is important proof to apply various documents like voter id card, caste certificate, income and residence certificate etc.
The department of consumer affairs and public distribution serves food grains including sugar and kerosene oil to consumers in very nook and corner of the state. As per cabinet decision the national food security act 2013 has been implemented in the whole of the JK state. The aim is to serve satisfactory quantity of quality food at reasonable prices.
Food grains are currently received by state from government of India, for distribution to the AAY priority household (PHH) and non priority households (NPHH). The department also play a major role in managing the supplies of other necessary agricultural products and also checking the market prices.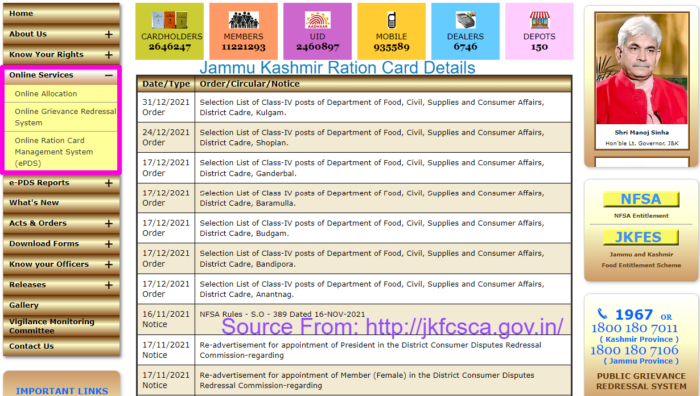 How to check Jammu Kashmir Ration Card Details in Districts Online at jk.epds.nic.in and jkfcsca.gov.in
First open the web browser and enter the official website to know ration card details http://jkfcsca.gov.in or http://jk.epds.nic.in/.
The official website will open, now click on the 'NFSA click here for ration card' tab, which is at the right side of the window.
A new window will open, this window contains the information about 'report on category wise number of ration cards in districts', From this click on your district name.
Now another new window will open, it contains 'report on category wise number of ration cards in Tahsil'. Here click on your Tahsil name.
Another new window will open, it contains 'report on category wise number of ration cards in village. Now click on your village name, you will directed to FPS window.
In FPS window select your FPS, finally you will directed to new window which contains the ration card list.
From the ration card list search your unique ration card id and click on that to know your ration card details.
Direct Gateway to Track the Jammu and Kashmir Ration Card Details Status Online at http://jkfcsca.gov.in/ or http://jk.epds.nic.in/